Shopping Cart
Your Cart is Empty
There was an error with PayPal
Click here to try again
Thank you for your business!
You should be receiving an order confirmation from Paypal shortly.
Exit Shopping Cart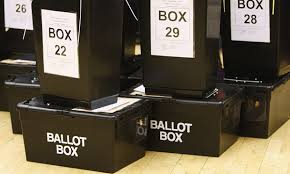 The day looms near where our appointed political leaders and their supporters will expend all their vested energy into directing a steady flow of human traffic towards the polling stations. They will do so in the hope that record numbers of people will turn out, expecting a noticeable change to be made to their lives.
These people will be entrusting their future and that of the country to politically formed groups of well doers based on promises of a better future and an insight into the possibilities and opportunities that lie ahead should they support them into the future.
Stripping the fundamentals and concepts down to the absolute basics, the outcome from voting is simple: this lady, man wins that guy or girl loses, locally and nationally and you do (pay) what they say. The reason for voting and the decision on who and how people vote is not that simple. Where and how votes are placed, the notion cast by each voter to put pride in balloting does not always stem from a clear knowledge nor understanding of why. Some may say that so often and loud are the moans of mankind that they can be heard repeatedly in the pubs, social clubs, bars, boozers and canteens across the country, oft created by a disgruntled but small percentage of people who actually know what they are talking about, and possibly regurgitated by the higher percentage who haven't got a clue, but have heard the rants, sways and moans so many times, they can repeat them in a more convincing and passionate manner than their well-to-do counter parts.
Here's a true story and an example of this very theory. more than 9 years ago a small group of local musicians, a gang member and a university graduate set up a community enterprise called Chants. Chants offered young people from all backgrounds the opportunity to voice their concerns about their community and their lives through music. Many (not all) of these young people, were a high risk to you the general public. They were a high risk to you being mugged, you being burgled, a high risk to your kids being sold some of the highest quality drugs to ever hit the streets of the United Kingdom and high risk to your husband straying 'at a late meeting' whilst curb crawling at night looking for pleasures in the seedy back streets of underworld Reading. This is by no way a glamorisation of street life but an insight into a taboo subject and the reality of inner city life across the UK. 
Many of the young people on Chants' programmes were the children mainstream society and education forgot, but the mainstream jurisdictional system remember oh so well. They were the children just a handful of people without fear dared to work with, but the masses we're quick to point the finger at then 'good riddance' off when repeatedly castrated in the very system put in place to rehabilitate them. History has taught us that segregation and non-inclusion does not work, and it sometimes brews animosity and hatred that can then bubble over and douse the fire that ignites community spirit, integration and inclusion, with a knock on effect that everybody feels but not many want to clean up.
Many of the young people Chants worked with had ideas, vision, plans, and were on a mission to achieve them all with apparent strategic planning, until they were requested to put their ideas on paper and structure them in a way that could be received and understood by anyone who cared to read it. It was at this point reality struck: basic education and life skills were missing from a few of these young people and many had seen and heard the stories, dreams and struggles of the artists they could relate to, and had seen themselves in so adapted the mind-set, mentality speech and characteristics of them, drawing themselves deeper into their world.
Chants set about implementing the positive aspects of their outside influences to a programme that not only demonstrated an understanding of the processes involved, but a greater understanding of purpose, self and their effects on their local community. Many of these young people turned their lives around through music production programmes and the events they helped to organise gave them vital life skills, an understanding of team work, helped them voice out, break their old social circles and make new friends and careers with other young people from more fortunate lifestyles. Young people on the programmes were given the help, support and time by local authorities. Members of the public from all walks of life donated funds and equipment and offered them well wishes on many occasions. The programmes were also supported by The then Mayors of Reading Councillor Gul Khan, Councillor Chris Maskell and Councillor Peter Beard, some of whom have attended events in the twilight hours in support. Local Labour MP at the time Martin Salter helped raise the programmes' public profile and spoke about the programmes achievements at party gatherings like the one chaired by the The Baroness Thornton of Mannington.  back in 2008.
Some may say the change in government brought about a change of direction, as funding was pulled for projects like Chants around the towns and cities across the UK. Some organisations lost hope claiming statistic herding was becoming a trend and real people, victims and assailants got forgotten and with no cure for the communities illness, its anti-social behaviour and other inner city diseases started re-emerging - concentrated in more secluded areas of our towns and cities where the effects on the communities are devastating. The government know of the "traffic light effect" for unemployed young people; they know there are not many who would put themselves at risk to rehabilitate the Red Light Category of these young people and it's why the same young people are imprisoned for lesser and lesser and at times trivial crimes each time.
Chants didn't sit for hours in bars & boozers and pick up conversations, Chants didn't regurgitate information of those peeved off with society following suit because someone had to be blamed and it seemed the best thing to do. No, Chants soldiered through entering the war zones because that's where they were needed. Chants first hand saw, felt engaged to try to make a difference, highlighted through dozens of press releases, by launching a national youth incentive (ITV Fixers), presenting a mini documentary on national TV and toured around the South of England engaging hundreds of young people and entertaining and inspiring thousands more. Chants were about changing the lifestyle and lives of people for the benefit of the people's community and everyone that lived in it, lifting from the bottom so all could rise together with a feeling of ownership and togetherness. 
When you vote this year, pledge support for your favoured candidate. Whether it's your first time or your last you must do so for the people who you believe will do the same for you. Look around, see what's happened in your neighbourhood. Have your interests, their promises and agreements been met or is it time for change? This year, more than any other, the fight seems a real one and one that will directly affect all of mankind living within our shores so it's time to get your voice heard and work with your local MP and Local Council Authority and together make changes happen.
Categories: None
/